Virtual Beer Tasting
A virtual beer tasting session on Zoom is a great way of getting together with friends, family or if you want a unique corporate event this is a great team building exercise for your employees. Real beer, virtual tasting!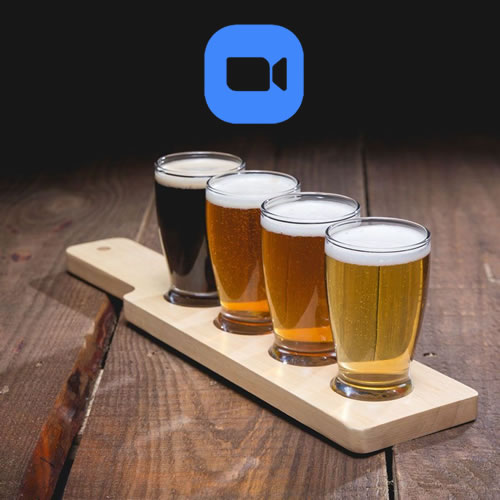 TASTING DATE
We need at least one week to organise and put together your virtual tasting packs so they are ready for collection or shipped to the participants. We can currently provide tasting sessions on a Monday, Tuesday, Wednesday or Thursday due to other regular commitments.
PARTICIPANTS
There needs to be a minimum number of 4 persons to create a good atmosphere and to keep the conversation and questions flowing. All participants must be over 18 years of age. If any of your group has any food/drink allergies please let us know at the time of booking.
CHOOSE BEER
Choose your own craft beer from our large selection or give us a budget (£30 per head is a good number) and we will put together the perfect brews to taste a cross section of different styles. You will need at least 4 completely different styles to keep the tasting session interesting for all taking part. Call into our shop for your beers or we can ship to multiple mainland UK addresses in time for your tasting.
ZOOM SESSION
We will send out the Zoom beer tasting session details/password with the beer packs. Our expert member of staff will host your beer tasting live on Zoom where he will discuss the beers, styles, taste, breweries etc. This is not done in a stuffy, pretentious way but in a light-hearted, fun and inclusive manner.
HOSTING PRICE
Cost is £50.00 for up to 2 hours plus the cost of the beers (plus shipping if applicable). After the tasting session is over you are welcome to stay on Zoom for as long as you want!
CUSTOMER REVIEW
"Thank you for the fantastic organisation of last nights virtual tasting session, from the initial phone call, to the shipping of the beers, and the surprise element for Danny. I wanted to say a massive thank you to Steve for leading such a fantastic evening. The lads absolutely loved every minute and Steve went above and beyond to deliver even more than we ever expected to get. He stayed on way longer than 2 hours and his knowledge and friendliness was just brilliant."
ENQUIRY FORM
Before we can start planning your virtual tasting event this enquiry form must be submitted. Please supply as much information as you can, thank you.